Back to all posts
Posted on
Ribbon Shirt Making with Springfield Staff!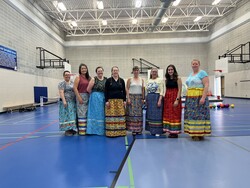 Ribbon Skirt Making with Springfield Staff
Celine Tamarack taught the Ribbon Skirt making class at Springfield over the weekend.
The ribbon skirt holds a significant meaning in Indigenous culture, particularly among the Plains Cree community. The skirt is traditionally worn by Indigenous women during powwows and other ceremonies. Ribbon Skirts are a symbol of resilience, survival and identity, but their meaning changes with each person who wears one and each person who shares their history.
 However, It is important to note that Ribbon skirts can be worn by anyone, Indigenous or Non Indigenous people. As long as it is worn in a very respectful manner and environment. The Springfield staff who participated in the class, learned the history and significance of the ribbons. We will wear our skirts proudly during National Indigenous People's Month celebrations in June. 
We are so thankful for Celine and her mother coming to teach a ribbon skirt making class.We hope to have you come back next year! 
To view more photos, please check out the Galleries section.